Full Mouth Reconstruction
Do you suffer from multiple oral health issues such as tooth loss and tooth decay that make it difficult to eat and speak?
A full mouth reconstruction can simultaneously address those issues to restore your oral function.
Dr. Gerald Lande in Carmel, IN, uses advanced technology to help you achieve a beautiful and fully functioning smile.
What Is Full Mouth Reconstruction?
A full mouth reconstruction is a restorative treatment plan designed for patients with multiple oral health issues that may affect their ability to eat and speak properly. These treatment plans are completely tailored to your unique dental needs. Just as no two patients are identical, no two full mouth reconstructions are exactly alike. Treatments often performed in full mouth reconstruction include:
Dental implants are titanium posts that act as prosthodontic tooth roots and provide a stable foundation for restorations such as crowns, bridges, and dentures. Implants are the only restorative treatment that can stop and prevent the jaw atrophy that can occur with tooth loss.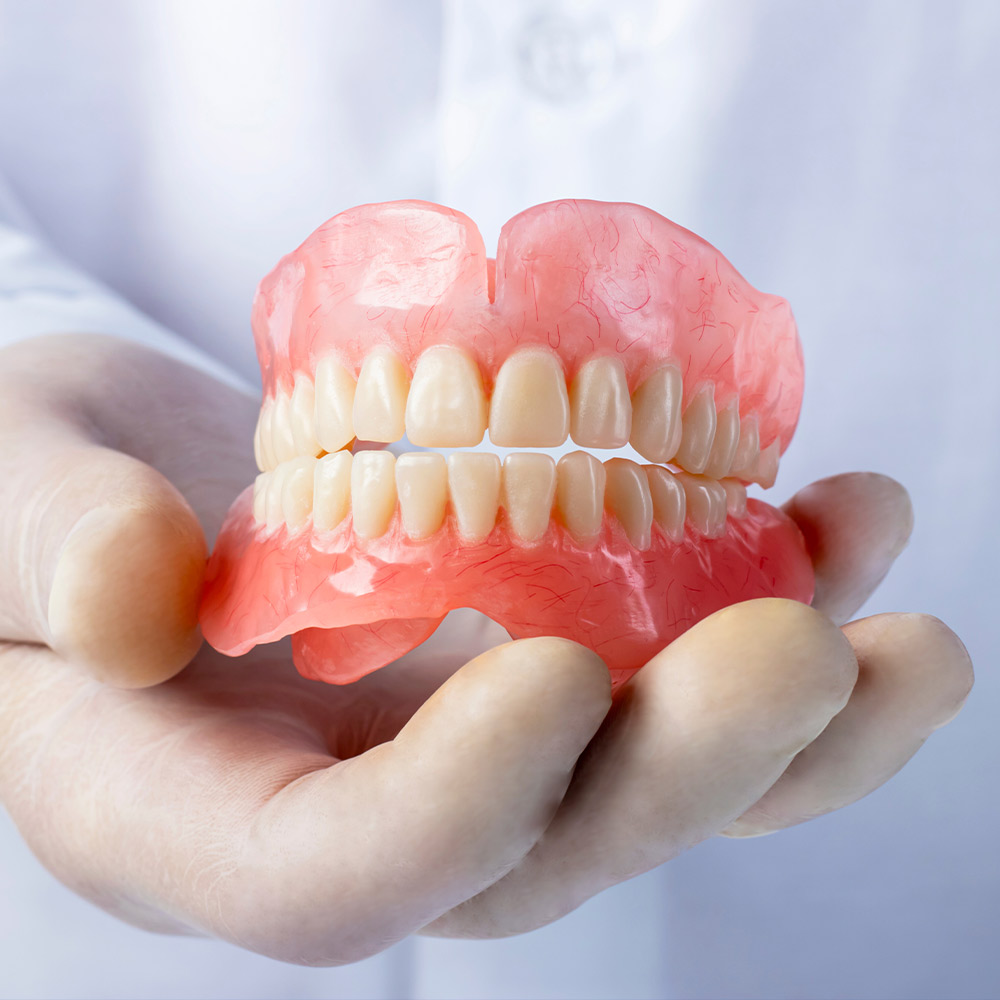 Dentures are prosthodontic devices that replace your missing teeth along one or both dental arches. Traditional dentures rest on top of the gums, but our practice also offers implant-supported dentures that provide superior stability and wear. Partial dentures replace several teeth, while full dentures replace an entire arch of missing teeth.
Dental crowns are placed following root canal therapy to preserve the tooth structure and can also be used to repair a damaged tooth. A crown supported by a dental implant can replace the entire structure of a single missing tooth. Our Carmel dentistry practice uses CEREC® technology, which allows us to craft crowns right in our office in as little as an hour.
Dental Bridge
A dental bridge replaces several consecutive missing teeth. Dental crowns are placed on two anchoring teeth to support the artificial tooth or teeth, called pontics. A dental bridge can also be paired with dental implants for optimal bone health and stability.
Fillings
Dental fillings treat mild-to-moderate tooth decay. After the decay is removed by your dentist, a filling is used to fill the spot left from the decay. This gives the tooth support and prevents bacteria from entering the tooth. Fillings can be made of tooth-colored composite resin or amalgam, which is made with metals like silver or gold.
Bone Grafting
Even a single missing tooth can cause the jaw to lose the much-needed stimulation it receives from tooth roots. This deterioration can often be halted or prevented with implants. However, if you already have significant jawbone deterioration, bone grafting can help build your jawbone back before implant placement.
Benefits of Full Mouth Reconstruction
Restored Oral Health
A healthy mouth is one of the top benefits of undergoing full mouth reconstruction. By restoring your oral health and function, you can prevent further tooth loss, decay, and bone atrophy.
Restored Confidence
When you have issues like missing teeth or tooth decay, you may hide your smile. With full mouth reconstruction, our dentist can develop a treatment plan to give you a healthy and beautiful smile you can't help but share.
Achieve a Healthy and Beautiful Smile
Request a Consultation at Our Carmel Dentistry Practice Today
At Lande Cosmetic, Implant and Family Dentistry, we understand that oral health issues can be overwhelming and embarrassing.
We are here to help. Dr. Gerald Lande began his career in dentistry at the age of 16 when he started helping his father in a dental lab. He continued his education and has been in practice since 1984. His experience combined with our state-of-the-art technology means he can provide high-quality care to help restore your smile, and you can eat and speak with confidence again.
Start your journey to a beautifully restored smile today. Give us a call at our Carmel, IN, dental practice or contact us using our online form to request a consultation.
Hear From Happy Carmel Patients
Love Dr. Lande and even though I moved to Evansville he is still my dentist! He is simply and absolutely the very best!
View on Facebook
Offering Advanced Tools and Procedures
Take a Look at Dental Implant Treatment
Full Mouth Reconstruction Costs
Because full mouth reconstruction is completely tailored to your unique dental needs, it is impossible to give an accurate cost estimate without a consultation. Our Carmel practice accepts most insurances. Restorative treatments are often covered by insurance, but this can vary by plan and provider. Once Dr. Lande develops your treatment plan, our office can help you determine what your out-of-pocket cost may be.
Restorative vs Cosmetic Dentistry
Restorative dentistry focuses on treating issues with the mouth and teeth that impact your oral function. For cosmetic issues that do not affect your oral function or health, cosmetic dentistry treatments such as veneers, gum contouring, or teeth whitening may be best. We offer a variety of treatments to give our patients the beautiful smiles they've always dreamed of. Contact us to learn more about veneers and other cosmetic treatments.
More 5-Star Reviews
From Satisfied Carmel Patients
Dr. Lande is perhaps the best dentist that I've ever had. He is polite, considerate and has a natural ability to put anxious people at ease with his interpersonal skills. He is not only a consummate professional but I am fortunate enough to call him my friend.
View on Google
Dr. Lande is the only dentist that I, my husband, (Dr. James Davis MD), and our children would ever trust with our dental health and our "Smiles." He is the gentlest, most clinically skilled, and professionally competent dentist that my family has ever discovered, which is why he has been our only family dentist for over 25 years.
View on Google